Haunted Sylvania: The Book of Truth, Magic, and Mystery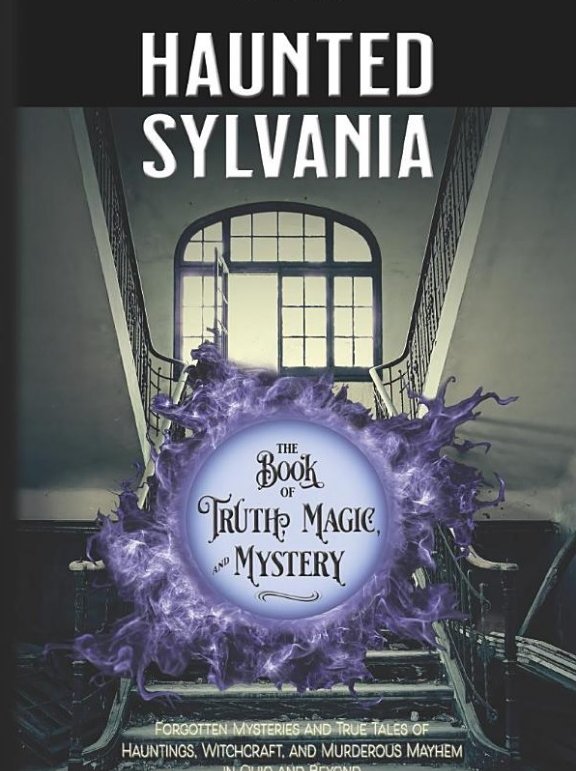 Seasoned journalist Minerva Merryman sets off on a spirited adventure delving into the past and unwittingly discovers hauntings, witchcraft, vampires, Halloween hijinks, and murderous mayhem, in Ohio and beyond. The journey ends with a twist when the truth behind the hidden magic of the Midwest is finally revealed. Two hundred years of true tales and heart-stopping headlines, newly unearthed accounts lost to the ages until now, thrust an inescapable secret into the light of today–It was all real.
Witchcraft trials as late as 1969, ghosts running rampant in the streets, gruesome murders in peaceful little towns, satanic cults in suburban settings–the forgotten mysteries and unsolved unspeakables of the past are on the prowl again. For the first time in print, the original, unaltered stories from over the centuries are brought back to life for a vivid picture of what really goes bump in the night in a place that has become affectionately known as… Haunted Sylvania.
Haunted Sylvania reveals over one hundred newly discovered stories, authenticated and originally published in the local newspapers of Ohio, that include:
-Ghosts terrifying the citizens of Cincinnati, Cleveland, Dayton, Lima, Millersburg, Springfield, Tiffin, Piqua, Wellington, Bucyrus, Fremont, Sylvania, Toledo, Perrysburg, Bowling Green; and many towns in neighboring Indiana, Illinois, Pennsylvania, West Virginia and beyond.
-The original tales of hauntings in Dayton.
-The ghost that had the entire city of Cleveland in a panic for years.
-Accused –and persecuted– witches in Put-In-Bay, Toledo, Akron, Arcanum, Mansfield, Union Furnace, Matamoras, Chillicothe, East Liverpool and Salem, Ohio; also witches in Indiana, Illinois, Pennsylvania, West Virginia, and beyond.
-The mediums of Cincinnati.
-The Gladys Esmond mystery.
Also included is the first chronicling of the macabre murders of Sylvania, Ohio, which is significant for any investigation into the question of whether there was a seed of supernatural evil at the root of so many merciless murders, or if the supernatural was later drawn to Sylvania by those evil murders.
In-depth accountings of three "devils" include the stories of Gerald Robinson and satanic cults; Robert Bowman the Doll Devil; and Return J.M. Ward, the Downtown Devil of Sylvania, all with never-before-released details.
Get it on Amazon today!